Myla Hardie will be back in Brazil with her own showcase for Worldhaus Music's Night at Bourbon Street Music Club during SIM São Paulo. Born in Hollywood (CA) and raised in the middle of the bustling music scene of Austin (TX), Myla's latest release, the audiovisual project "Hardie Theater", is a culmination of her life experiences and the connection she has with Brazil.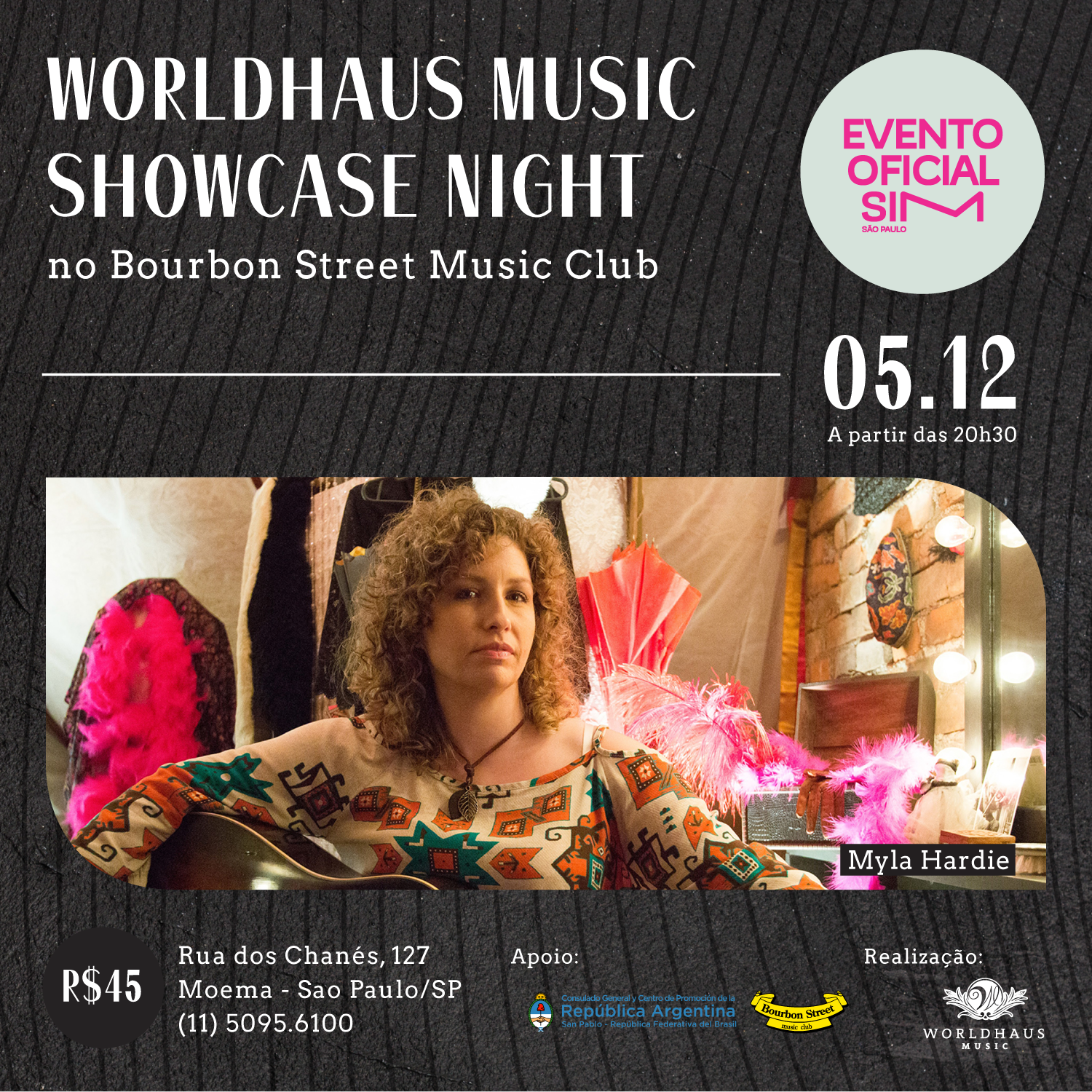 Service of the Night: 
Name of Event: Worldhaus Music Showcase 
Date: 05/12/2019 
Time: 8:30PM 
Venue: Bourbon Street Music Club 
Address: Rua dos Chanés, 127 - Moema 
Tickets: R$45 
Capacity: 500 people 
Rating: 16+ (under the age of 18 are admitted if accompanied by an adult) 
Additional Information about venue: Valet service. Closest metro station is Estação Eucalipitos, purple line. 
Program: 
9PM - Screening of the road movie "Highway 61: from Chicago to New Orleans" 
9:30PM - Anamolí (ARG) 
10:10PM - Myla Hardie (USA) 
10:50PM - Gustavo Chaise (RS/BRA) 
11:30PM - Pata de Elefante (RS/BRA) 
12AM - Fernando Noronha & Black Soul (RS/BRA) 
Info: This is an event promoted by Worldhaus Music and it is part of the official night program of "Semana Internacional de Música de São Paulo". SIM SÃO PAULO pass holders have free access presenting the SIM wristband at the door, respecting the capacity of each venue. 
About SIM: 
The 7th edition of "Semana Internacional de Música de São Paulo" (SIM São Paulo) will take place from December, 4th to 8th 2019. The conference will have more than 90 panels, as well as meetings, events, Networking & Business activities at "Centro Cultural São Paulo", and more than 400 live gigs - among day showcases, in the Adoniran Barbosa room at the CCSP, and night showcases, across more than 45 venues in the São Paulo capital, showing the music diversity of the contemporary global scene and tendencies for the next few years. 
Every year, SIM São Paulo highlights the news in the industry and encourages the debate and articulation of new strategies for the culture, such as building support networks and partnerships to strengthen the market. In 2019, more than 3,500 pass holders are expected, coming from all over Brazil and more than 25 countries. In addition, it is estimated an audience of more than 40,000 people circulating throughout the event during these 5 days. 
SIM SÃO PAULO 2019 
Venue: Centro Cultural São Paulo + venues 
Date: December, 4th to 8th 2019 
Program: opening party, day showcases, night showcases, conference, network & business, etc. 
PRO-BADGE (Pass Holders): R$ 250 (first rate – till 30/09) / R$ 350 (second rate – till 30/11) / R$ 450 (third rate – from 01/12). 
Registrate for a PRO-BADGE at www.simsaopaulo.com 
Pass holders have free access to the full SIM program respecting the capacity of each venue.